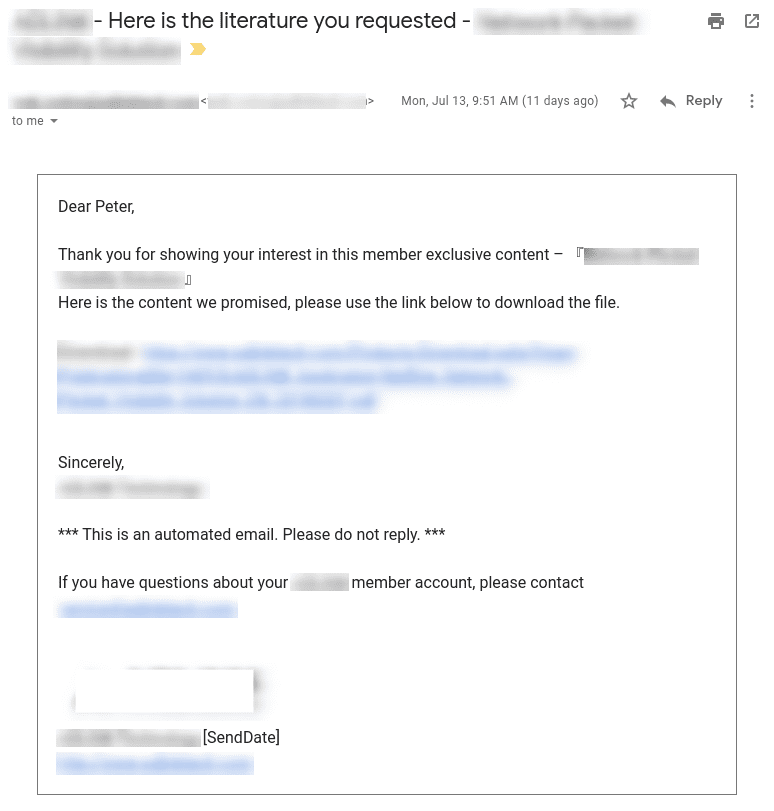 The previous analysis of a download notification from a lead magnet download form showed one example of an autoresponder email message for a download link request. This time the context is different, which doesn't shift the whole intent, but changes the approach in subtle ways.
Email Context
The context of an email is important because it indicates different levels of trust and thus how much you can ask for or give to the lead. You can gauge how much they have invested in the process up until now.
In this case, I have already signed up as a member of this site. That means I've gone through the hassle of entering all my contact information, then clicking on the confirmation link email. If I was a potential customer, I am probably slightly more invested at this point than a once-off downloader.
Let's take a dive into the download notification email.
Good
I like quite a lot about this email. It gets to the point and doesn't sound too corporate.
Subject Line
CompanyName - Here is the literature you requested - DocumentName
The inclusion of the company name reminds the person of where this email is coming from. The object of the email is clear. The name of the requested material is listed. All the necessary details are there.
Personalization
Dear Peter,
All good and the syntax is fine. Sometimes the commas get a bit mixed up if the name is missing. I know they always collect first names for this, so missing names shouldn't be an issue.
Short and to the point
Download content explicitly named – blurred bit on the first line
Download link obvious – big blue link
Contact details
There is a contact email if you have any questions. Good because it makes it easy to get in contact if you have any questions.
Not so good
A few little nitpicks.
Variables.
[SendDate]
The mail merge variable [SendDate] should be replaced with a real date (or just deleted). The square bracket notation is a common text replacement technique for mass emails.
NOTE: This could easily be prevented through simple testing. Also, send the test email outside your local email system. i.e., if you use Exchange, then send a test to Gmail
Reply
*** This is an automated email. Please do not reply. ***
Setup the email so the recipient can reply directly. It might seem like a small thing, but busy people reading emails don't really want to jump through more hoops to reply.
It feels like this sort of thing comes straight from a user manual where the poor technical writer is trying to explain away glaring design issues with detailed explanations. However, from a UX perspective, this is just poor practice. It likely points to a poor setup of email delivery systems. Don't fix the user, fix your email delivery.
Closing Thoughts
As mentioned in the beginning, this email came after I was a registered member of this site, and logged in when I requested the download link. Which begs the question…
Why email?
If I am required to register and be logged in, then displaying a download link directly makes more sense. Remember, there could be a significant wait for the notification email to arrive.
Any decent analytics software would record the download and include it in the client vetting to indicate that this person is interested in certain topics. And then the follow-ups can proceed as usual because the appropriate triggers have been… well… triggered.