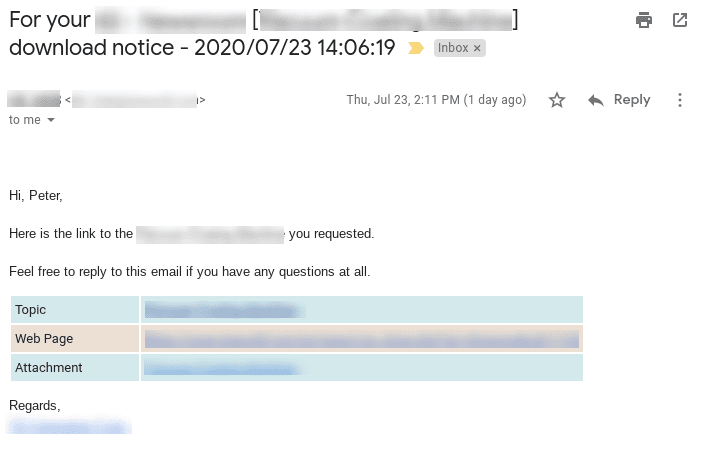 Email autoresponders with personalization are intended to mimic the communication of friends and acquaintances. Of course, they are supercharged with automation goodness to reduce manual workload, but they should be written like a human, not a robot.
The autoresponder message was a download link for a case study. Let's have a look at what is good and what can be improved.
Good
Personalized
Hi [FirstName]
People respond positively to their own name. This also mimics how you would address a friend. "Hey Joe, what time is the party on Friday?" If the first name is available, then use it, otherwise, start to collect them when collecting email addresses.
Easy Reply
"Feel free to reply to this email if you have any questions at all."
At all costs avoid the cringeworthy, "This is an automated message, do not reply." The message should be low-barrier and low-commitment, so don't make it difficult.
In this case, the email was a download notification, so get to the point and tell the dear potential customer where to get what you promised them. Make it as easy for them to get back to you if they have a question.
OBVIOUS TIP: Make sure the reply address will actually reach someone.
Not so Good
Subject Line
For your ___ download notice - 2020/07/23 14:06:19
The email title, like all titles everywhere, is the gateway to the rest of the content.
You would never email anyone else with this sort of heading, so don't make the machine sound even more artificial. Try this one instead.
[FirstName], here's your download link
…or…
Here's the case study you requested.
Shocking, I know, but these are sufficiently clear. The date information is just wasted space, and the left out part didn't make much sense. The date and time information could be included later in the email if absolutely necessary.
Body – Info Table
This table is unnecessary, and doesn't add any clarity in this case.
The word choice is also poor.
Topic – the title of the document from the download link
Web Page – the landing page where they submitted their information
Attachment – the document download link
Lets try an alternative that includes all the original data.
Just in case, you requested the [DocumentTitle] from [URL] on [Date].

LINK: [DownloadLink]
It's probably not necessary to include that much information, but sometimes company policies dictate their inclusion, so get them in somehow.
NOTE: Even if the email message is text only, the download link will be displayed as a blue link, making it obvious
Conclusion
Polish up the headline, remove the table, and make the download link clearer. Those will sort out the major issues.
Oh, and don't forget to track open rates and click through rates.
And please follow up after a few days to see if the download was useful. Or if they didn't download it, gently remind them. Because that's what good friends do.